About Us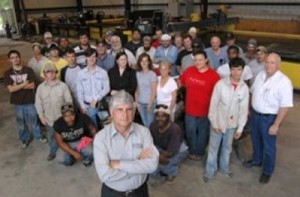 We at Bayou Fabricators and Machine Works, Inc. are able to produce any item from a drawing or by sample. Through our computer shape cutting capabilities we are able to maintain tight tolerances resulting in a better quality product. We are proud of our excellent record in delivering a job that is needed in an emergency without sacrificing quality.
With our ASME qualified welders and welding procedures, you're not only assured of quality in building new tanks and vessels, including repairs and modifications in our shop or in the field, but the same quality is adhered to in all our fabrication work.
We are especially proud of our ability to turn jobs quickly when needed both code and non-code. This is only possible through the ability and dedication of our employees and the continued support by management in giving them the tools and technology they need to deliver the job. We also seek "niches," so if you need an item produced, whether it's one or a hundred, contact us today. We will be happy to work with you and we guarantee a quality product in a timely manner.
At Bayou Fabricators and Machine Works, Inc., we are proud of our growth and the quality of our work, and we have a mission:
Bayou Fabricators and Machine Works, Inc. is dedicated to meeting or exceeding the needs or specifications of our customers through improving the skills of our workers in the metal fabrication and machine field. We will continually work to improve our abilities through the implementation of the "Quality Performance Process." We are committed to utilizing today's technology to meet the neverending challenges of the future. We will develop our products in a cost-effective manner, to be delivered on a timely basis.